Module 4

Paint, Stain, Topcoat & Glaze Tools

Choose the BEST Products to Save Time & Money
The best products to try are those recommended by others in the same niche. I've listed products recommended by others along with those I personally use. Products with *** in front of them are brands or products I've used and liked. Watch for: "TIP:" if you want the inside scoop from experienced flippers.
NOTE: Click on the picture or the name of the product to be taken to Amazon or similar online market - but be sure to open it in a new tab so you aren't taken away from FFB. Most are affiliate links for your convenience.
TOOLS
*** Paint Sprayer – Wagner Control Spray Max – to cut down paint time and give a smooth, even layer to avoid brush strokes.
From the Company: Compact lightweight spray gun, professional grade metal cup for smaller fine finish applications. Variable flow trigger dials in spray pattern width from 1 inch to 10 inch. Two Stage Turbine sprays latex, as well as thinner materials such as lacquers and stains, variable air pressure control means less over spray with thin materials, 20 foot high flex air hose. 3 spray patterns, with variable flow control covers large spray surface down to detail work.
***  Home Right Finish Max Paint Sprayer – to cut down paint time and give a smooth, even layer to avoid brush strokes. See Module #8 for a demo video on spraying a topcoat.
From the company: Adjustable spray control enhances precision for improved outcomes. Adjusts to three different spray patterns - horizontal, vertical, and circular. Brass spray needle and housing for longer life and improved performance. Sprays coatings on evenly and without brush marks.
Their newer sprayer, the Super Finish Max, comes with three different spray tips and requires less thinning. It's a little more expensive than the regular Finish Max, but more versatile.
*** Central Pneumatic sprayer from Harbor Freight - we use this one for our oil based products and is very inexpensive. It's super easy to clean and once you get the hang of it, is very easy to use. This  needs a compressor.

From the company: This general purpose gravity feed spray gun uses high volume, low pressure (HVLP) for high output with lower over-spray. This style of spray gun is better for the environment and also helps you save money on material costs. The HVLP spray gun features include an adjustable fan pattern and volume control. Sprays enamels, lacquers, urethanes, and metallic paints, has an adjustable fan pattern and fluid control for superior finish, ideal for spraying base coats and primer. Required air supply: 1-3 HP compressor.
From the Company: For spraying medium to large size furniture pieces with spray cans or paint sprayers. The tent-like structure is designed to help limit overspray drift associated with spraying paint or stain outside. Portable and lightweight for easy maneuvering - 6 ft x 8.5 ft x 5.5 ft. The Spray Shelter can be set up and taken down in minutes and packs up into a small footprint for easy storage. The newly added mesh screen helps protect freshly painted projects from wind, leaves and bug.
*** Bench Cookies - Use to lift your furniture parts like cabinet doors up during painting - more sturdy and reliable than painters triangles.
From the company: Finish both sides of a project without slipping or sliding. Minimal surface contact. Won't ruin your finish or mar your wood. Nest for easy storage. Protects your Bench Cookie® Work Gripper pads from paint and other finish products.
SANDING & BUFFING PRODUCTS
*** Tack Cloth - for cleanup just before painting and sanding between coats of paint or topcoat. Use only with oil based products.
TIP: Be careful not to use with water-based products or press so hard that you leave a sticky residue on the wood.
*** 150 Grit 3M Pro-Pack Sanding Sponges - disposable pack of 54 sponges for prepping wood for staining.
TIP: These can be washed and re-used. When the grit wears down, they work great for sanding in-between coats of paint and topcoat. 
*** Sanding Sponges are designed for wet or dry sanding on wood, paint, metal, plastic or drywall. The block shape sponge makes it easy to hold and sands flat, contoured, or irregular surfaces.
TIP: These work well on curved surfaces like spindles and routered edges. When they wear out after multiple uses, wrap a flexible sanding pad around it if you're looking for a good grip. These can be washed and used over and over.
***1000 grit Sanding Sponges are excellent for smoothing out the last coat of painted on Java Gel before the finish topcoat. These are expensive (about $5) and hard to find online – can be found at O'Reilly Auto Parts Stores.
***Sanding Block - Slotted ends for holding sheets during wet or dry sanding, designed to be used with 2-3/4 in. x 9 in. sheets.
*** Flexible Sanding Pads - 4-1/2x5-1/2x3/16in sponge, conforms to your hand for detail sanding, abrasive on one side only.
TIP: These work great for sanding spindles, legs and detailed areas.
***Steel Wool for polishing and buffing.
From the company: Super fine (0000) steel wool pads buff furniture wax or for a high luster finish, or to put a matte finish on gloss.
*** Synthetic Steel Wool 0000 – Use to smooth out paint or topcoat before the final coat. Use when choosing a water based finish (left behind particles won't rust). This is not as strong as regular steel wool.
From the company: 3M Synthetic Steel Wool Pads are compatible with water based strippers and finishes. They replace steel wool and won't shred, splinter or rust. These super fine grade pads can be rinsed and reused. This product has mixed reviews on Amazon.
*** Brown Painter's Paper – for buffing a wax finish. This can be compared to 1000 grit sandpaper, making it a cheaper alternative.
TIP: You can also use brown paper bags, but be sure to use the plain side with no writing.
PRODUCT APPLICATION PRODUCTS
*** Staining Pads - Great for staining or applying a water based topcoat. 4 in. x 5 in. The sponge is wrapped in white terry cloth.
TIP: My preferred brand is HDX found at Home Depot. In the store, they come in singles and packs of 4. The nap on this brand terry cloth is a better quality, cutting down on left behind fuzz. Before using, remove any stray fuzz by beating on it a bit. Let it soak in the topcoat for a few minutes before using - you might even want to wet it and squeeze out as much water as possible before using. Pour the topcoat on a plastic or styrofoam plate, let it soak up a bit and then apply. To save the pads, place them in a Ziploc baggy in-between coats, squeeze out the air, and reuse for the next coat. Make sure it has not dried out before reusing. Toss after you are done with oil based finishes. If using water based topcoats, you can wash them out and reuse.

Not recommended for oil based topcoats because it tends to pull off the fibers because they are very sticky and thicker.
Country Chic's painting sponge - another option for paint and topcoats. Inexpensive and easy to use and these types of sponges are recommended by many flippers.

TIP: Add General Finishes Extender to water based topcoats for workability - it increases open time. Avoid drag by not going over and over an area where you have top-coated. Today's topcoats are made to dry quickly, causing drag if you go over an area too much. These are washable if using water based products.
Use for applying topcoats smoothly and easily. This sponge is easy to use and glides well over the surface. It washes out easily and dries quickly. (This is my preferred tool)
From the company: Contoured for easy gripping. This applicator is suitable for all application uses. It includes a handle for comfort.
TIP: If you plan to do several coats of glaze or poly, you can store this sponge in a Ziploc baggie in-between coats to avoid washing out each time and preserve the material that is still in the sponge.  Squeeze out as much air as possible when storing in the baggie and it will last several days, allowing you to take your time adding your layers of topcoat.  To increase work-ability of your glaze or topcoat, wet the sponge and squeeze excess water out before adding the glaze or poly.
Use for applying topcoats smoothly and easily - General Finishes recommends this for applying their topcoat, adding a nylon over top to improve a smooth finish.
From the Company: An economical tool to give you a smooth finish, great for paints, varnishes & stains, provides a smooth finish for sealing, pasting & waxing, Angled for getting into corners, nylon can be cleaned for reuse, inexpensive enough to be disposable.
*** Country Chic Oval Paint Brush
From the Company: 1.5" synthetic oval paint brush made with synthetic bristles which will allow you to easily apply the paint to your piece without noticeable brush strokes. The oval brush is packed with bristles and will hold more paint than the flat brushes, making your paint job faster and more efficient. This top-of-the-line tool will soon be your go-to brush.
*** Natural Bristle Round Brush by New Renaissance
From the Company: This professional brush is designed to paint and wax furniture for a high quality look. Our pure bristles are preferred by most chalk paint artists because they create a more authentic looking chalk paint project. Nylon bristles don't leave the same texture as our natural bristles. This brush works well with all colors of paint or wax, on all types of furniture. It is a premium brush at an affordable price.
*** ClingOn Brushes
From Retailer Wise Owl: ClingOn Brushes offer superior application, resistant to shedding, and smooth flawless finishing makes this brush the favorite brush among furniture painters. Premium synthetic filaments, beech wood painted handle, fully locked in epoxy cement to eliminate shedding, stainless steel ferrule. Hand made in Holland. Cling On! is designed for all waterborne materials. Brushes are available in round, oval, flat, and angled styles.
*** Simply Simmons XL Brush Soft Synthetic Round #40
This is an amazingly soft brush used for painting easily in corners, details, and hard to reach areas. Top quality. Typically used by artists for watercolor paintings, but works great for furniture artists too.
*** Chip brush – Cheap brushes for a one time use – one and done. These are great for painting oil based products if you prefer not to have to clean out the brush. They can also be used for specialty finishes like dry brushing if you prefer a more varied look.
*** The Wonder Brush - Great for getting a smooth finish, especially with Retique It Liquid Wood.
From the Company: The Wonder Brush is a nylon bristled brush for water-based painting. It applies the paint or liquid wood with a very smooth even consistency and applies a thin perfect coat so you don't use as much product
Use this graining tool set with Retique It Liquid wood to give it a well defined grain.
Use to apply just about any type of product from paint to poly - be sure to get only high quality foam brushes.
*** Particle dust masks will help keep dust out of your lungs and sinuses.
From the company: For light duty or short duration applications. Patented filter media with advanced electrostatically charged microfibers make breathing easier and cooler for enhanced comfort.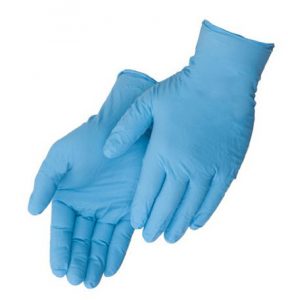 *** Nitrile gloves are best for use with chemicals. Great for keeping your hands clean while painting, staining and topcoating.
From the company: industrial grade powder free glove. Nitrile gloves are manufactured using synthetic polymers and are more puncture resistant than natural rubber. Resistance to punctures and abrasions, a perfect choice for protection from a variety of chemicals. Industrial grade nitrile gloves are made from component materials which meet requirements for food contact and handling. Gloves comply with FDA regulations, standard industrial grade. This is powder free glove. Textured finger tips. 4 mil thickness.
*** Respirators are a must for health protection, especially for those who are very sensitive to smells and chemicals.
From the company: government approved by the National Institute for Occupational Safety and Health. NIOSH certification means the respirator has passed stringent government performance standards including filtration efficiency testing and provides at least 95% filtration efficiency solid and liquid particles that do not contain oil.
*** Eye protection is a must when prepping with chemicals. From the company: help protect eyes from certain airborne particulates and chemicals, they feature vents to help reduce fogging, with a chemical resistant band.
*** Painter's Coveralls - Super convenient for those times when you just want to throw something on over your clothes to protect them from your products.
TIP: Every piece of clothing will end up with paint if you aren't careful. This is a good way to consistently care for your clothes for that one time you "just run downstairs to put on another coat" while in your church clothes. Yes, I've done it...
Save
Save
Save
Save
Save
Save
Save
Save
Save
Save
Save
Save
Save
Save
Save
Save
Save
Save
Save
Save
Save
Save
Save
Save
Save
Save
Save
Save
Save
Save
Save
Save
Save
Shiva Sticks - Use to highlight your pieces in a convenient crayon type of medium. Oil based, self sealing in 24 hours.
From the company: Paintstiks can be spread or blended and used in conjunction with conventional oil paint. There are no unpleasant odors or fumes, so you can virtually paint anywhere, at any time, on almost any surface from paper to panel to fabric. Paintstiks are "self-sealing". That is, they form a protective film so the color won't rub off or dry out. Yet they always stay moist and fresh, providing an indefinite shelf life because they reseal in 24 hours.
*** Rub N Buff - Use to highlight your pieces. Squeeze out of a tube and use your finger to apply. Wax based, buff to a lustre.
From the Company: Rub 'n Buff is a bright silver wax-metallic finish that is perfect for antiquing, stenciling and other craft projects. It's so easy to apply. Just rub onto any surface with finger or soft cloth, then buff to a beautiful luster. Rub 'n Buff® is ideal for: restoring cherished antiques, stenciling, frame finishing, antiquing, crafts projects.
*** Metallics from the Royal Collection at Retique It - Do you like glitz? These metallics are beautiful (especially the gold!). Mix with poly for added shine or paint right on for a solid glitz.
From Retique It: Use just a little to add some sparkle effects to your finish or use more (even straight) for a brilliant metallic effect.The 2 oz jar contains 12 teaspoons! A little goes a long way. Use approximately 2 to 4 teaspoons to make a full Pint of Metallic Finish!
NOTE: Painting the gold right on full strength will give you the same glitzy look as using gold leaf. Check the bonus Business page for a Retique It discount code exclusive to FFB.
*** Retique It Liquid Wood® - Use to create a wood finish anywhere it's needed: plastic, damaged and repaired wood surfaces, laminate, glass, etc.
From the company: A: Retique It® Liquid Wood can be applied to anything from furniture to steel doors, laminates, masonry, PVC, MDF, glass and more. All of these and more can be turned into beautiful stained products. Liquid Wood will not adhere to Silicone or other petroleum-based products.
NOTE: Be sure to go to the bonus Business page for a discount code.
Cleaning Synthetic Brushes
My Preferred Application Method for Poly
"One of my primary objects is to form the tools so the tools themselves shall fashion the work and give to every part its just proportion. "

- Eli Whitney