Bringing Value to the World Through Art
"Great things are done by a series of small things brought together." Vincent Van Gogh
Taking your time and experimenting and experiencing is what makes a great piece of art. It's good to plan out your process and prepare with products at the ready. But true great works of art are not planned. They are experienced.
We all start out with they typical cleaning and repairing. But then after the dust settles, we begin to see what our piece could be - what life we can bring it and how we can make it stand out above the rest of the carbon copy mass produced.
This is our chance to create something beautiful. Something that will be passed down through the generations ready to live another 100 years.
The piece I'll show you today was stuck in a back room at a consignment shop hidden among 100 other pieces. It didn't stand out. If anything, it seemed to be hiding. It took me just three seconds to pick her out as I scanned the room. I tend to look for the unassuming pieces that aren't particularly beautiful or interesting. When you've been at this a while, you start to see potential in the pieces others would pass over.
I suppose part of how I do this is innate in my personality. Or perhaps it's in my heart - the desire to find "things" that have potential that others over look.
Here she is before: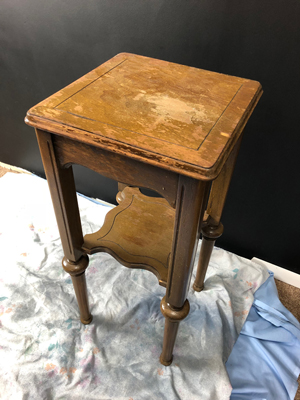 Products Used for Prep and Repair in Videos 1 & 2:
Rigid sander, sanding sponges, flexible sandpaper, sandpaper, contour sanding grips, Soy Gel stripper, green scrubbies, thick plastic sheeting, paper plate, Mineral Spirits, putty knife, Durham's Rock Hard Putty, empty baby food container, popsicle stick, wood glue, Scotts Rags, chip brush, nitrile gloves, dust mask, micro fiber towel, metal picks, syringe.
Priming, Painting, Dry Brushing, Top Coating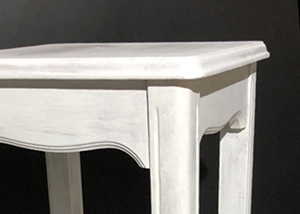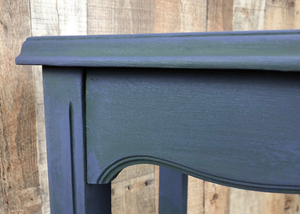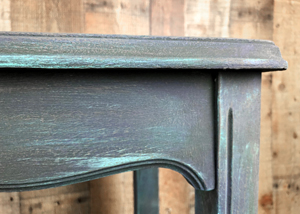 Products Used for Dry Brushing and Top Coating in Videos 3 & 4:
STIX bonding primer, canned air, Zibra brush, Pure & Original Classico Greek Sky & Deep Earth, General Finishes Key West Blue Milk Paint & Patina Green Chalk Type paint, styrofoam plate, Scotts Rags, Popsicle Sticks, plastic spoon, Pure & Original paint brush, Country Chic oval paint brush, chip brushes, Pure & Original Dead Flat Ecosealer
Creative Background Painting, Stenciling
It's time for freehand painting and the finishing touches!
Products Used for Freehand Background Painting and Stenciling in Videos 5 & 6:
Scotts Rags, Plastic wrap, wax paper, stencil, Pure & Original Classico Deep Earth, General Finishes Bronze Pearl Effects & Burnished Pearl Effects, styrofoam plate, popsicle Sticks, chip brush, st
When we were in full-time ministry I looked for and ministered the forgotten and over looked. I taught for years in my own made up special needs classroom. I taught a ladies Sunday School class that attracted women who were looking for validation. When I was the school and church photographer, I looked for the thought provoking candids that told a personal story that would inspire and bring attention to the details of life. And then there's the 13 adopted special needs kids we added to our 2 homemade. There are lots of stories that go along with that part of our life. Art is taking something less than its potential and creating something (or someone beautiful).
Suffice it to say that art, which comes in many forms, is something that brings value to the world and our own personal lives. We were not created to live a cookie cutter life, rather, to bring value and make a difference. We can do that in many forms - whether it be in the lives around us or on a canvas.
My furniture is my canvas. It's like taking the best part of myself and displaying it on something tangible. No wonder I feel a loss when my pieces go out the door to live in someone else's home!