"Life is a great big canvas; throw all the paint you can at it." ~ Danny Kaye
"It's so fine and yet so terrible to stand in front of a blank canvas." ~ Paul Cezanne
There is so many comments all over social media in our niche that refers to "paint slapping." This is a term that became popular when the average "Joe" came into furniture flipping for a quick buck.
No prep. Just grab a brush and slap paint on your piece of furniture, add a price tag and call it "good."
Nope. That's not art and that's not what we are aspiring to. We are wanting to rise above the hazardous paint slapping and turn out pieces or art that will allow an old piece of worn out and out dated furniture to continue on as a beloved piece of furniture for another 100 years.
So we practice and we observe. We experiment and we practice some more.
I'm challenging you to step beyond the norm and find your passion. Find your own unique style and then offer it to the world - at a pretty price!
I'm demonstrating a couple of techniques for you today in this month's bonus.
Shading/Blending/Antiquing and Shadow Stenciling.
To go the extra mile and use your furniture pieces as your canvas is so much more than "paint slapping."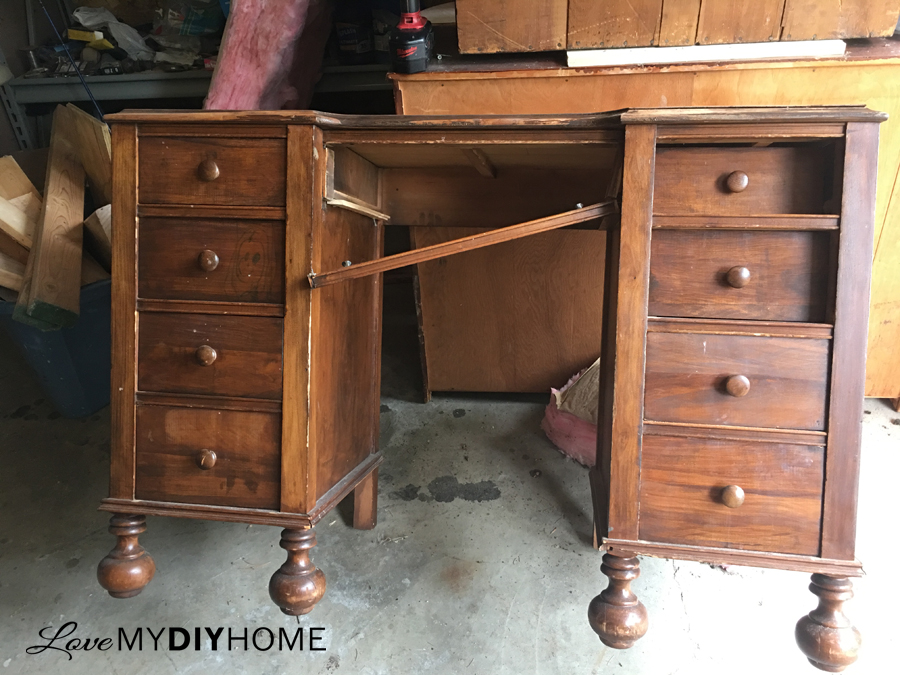 Let's start at the very beginning, a very good place to start...
We bought a vanity and cut it into sections making the two end pieces with drawers into night stands. They needed two new tops, so DH bought an oak board, cut and routered two new tops and I stained them using CrystaLac's CraftNique DIY stain. I also stained the two front feet with that same stain. DH primed them along with a bunch of other pieces.
CraftNique also has a white base acrylic paint that their new tints can be used to make just about any color in the rainbow. I followed Dorinda's recipe and came up with just the right coral color for the base and then darkened that base coral color for layering.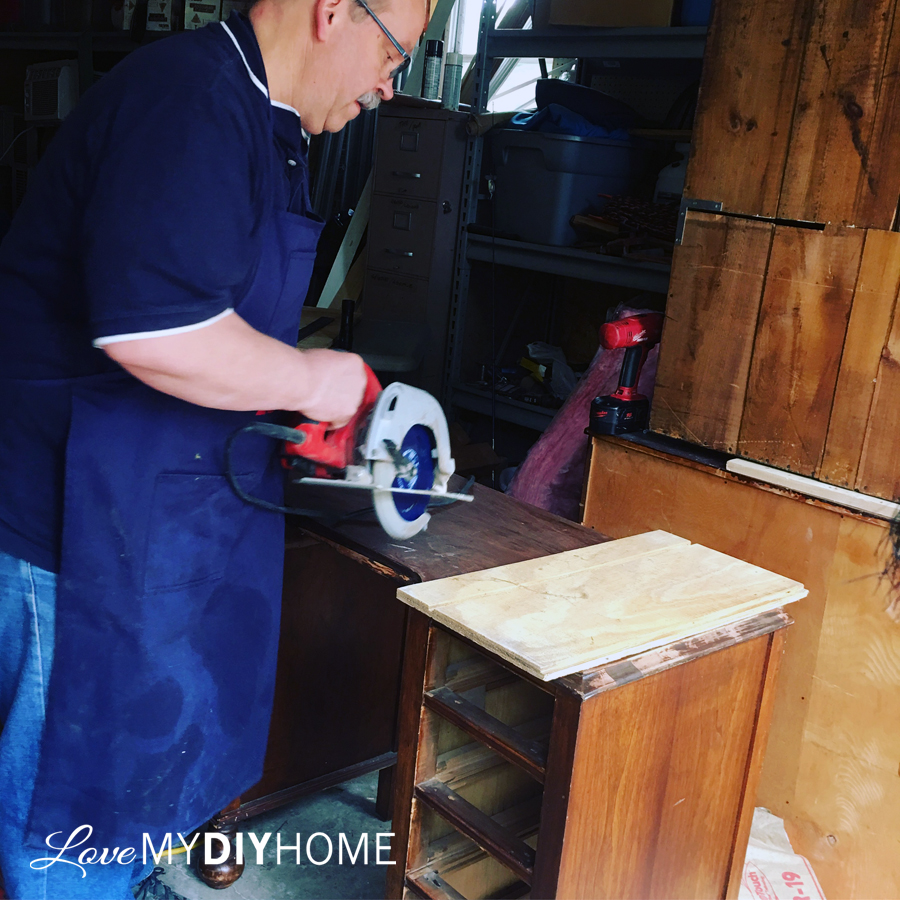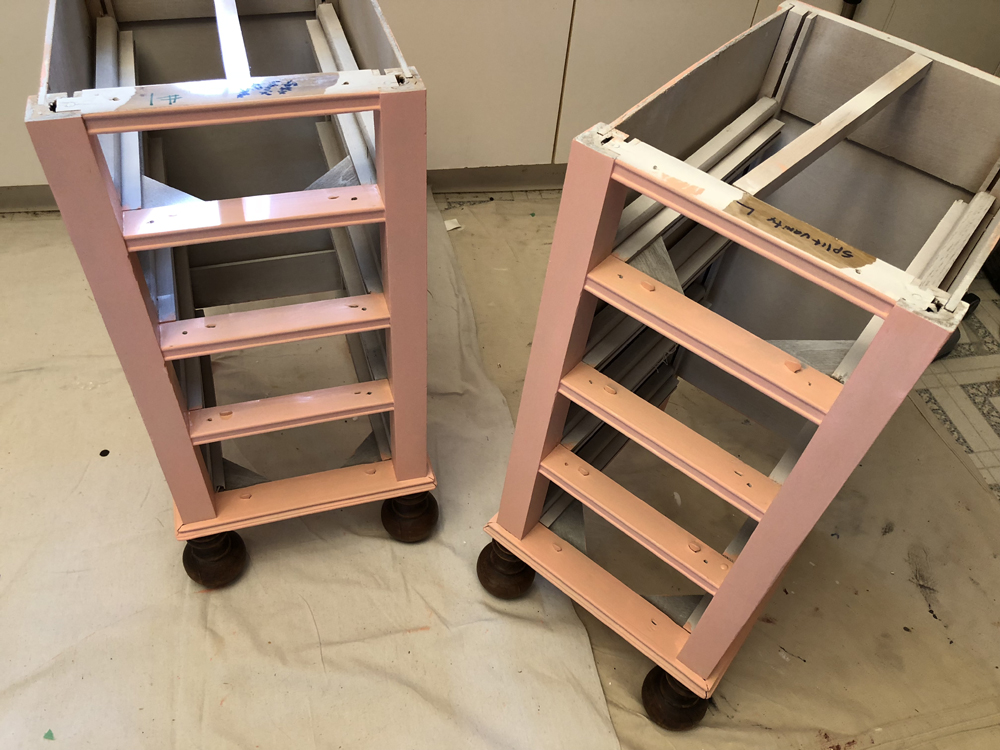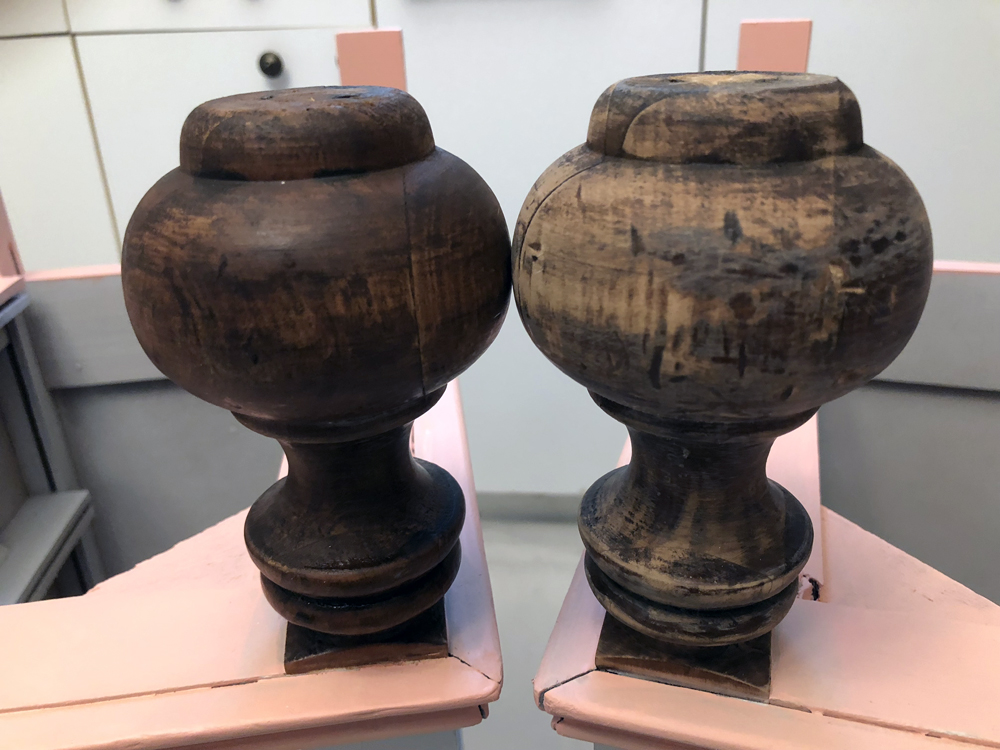 As you can see with the two feet, the one on the right is the before and the left is the after. I didn't want a perfect stain because I was going for an original look.
Continuing with my old-world plan, I blended General Finishes Pearl Effects mixed with the corals into the corners to frame my stenciled flower. I call it shadow stenciling because I used the opposite color, the layered color to stencil a flower that looks like a shadow. I had originally thought I'd add more colors to the flower but as what is typical for me, I changed my plan once I saw what I liked. Both videos are here to show you how I did the blending and stenciling of the shadow flower.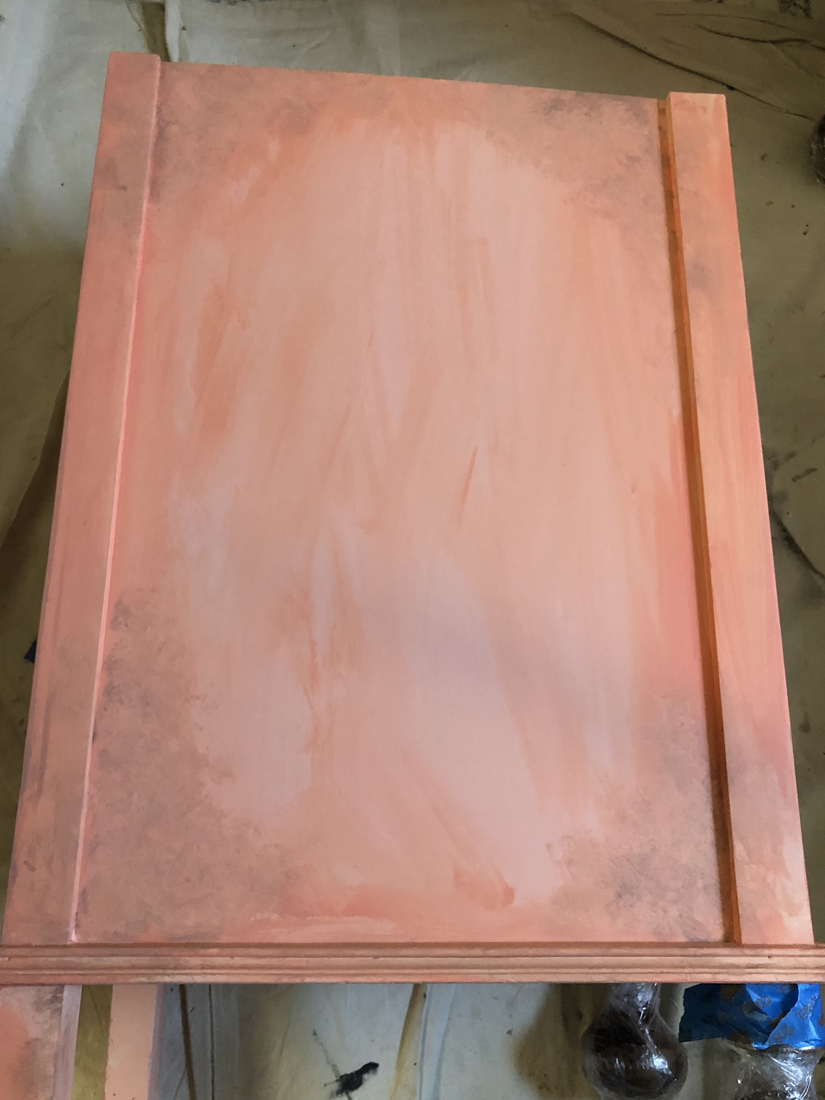 The amount of blending you do is entirely up to you. You can choose a smooth and well blended design or layered with just a bit of blending like what I did here for more of a Tuscan look - which is my fave method. Before I stenciled, I applied one coat of General Finishes Flat-out-Flat Poly.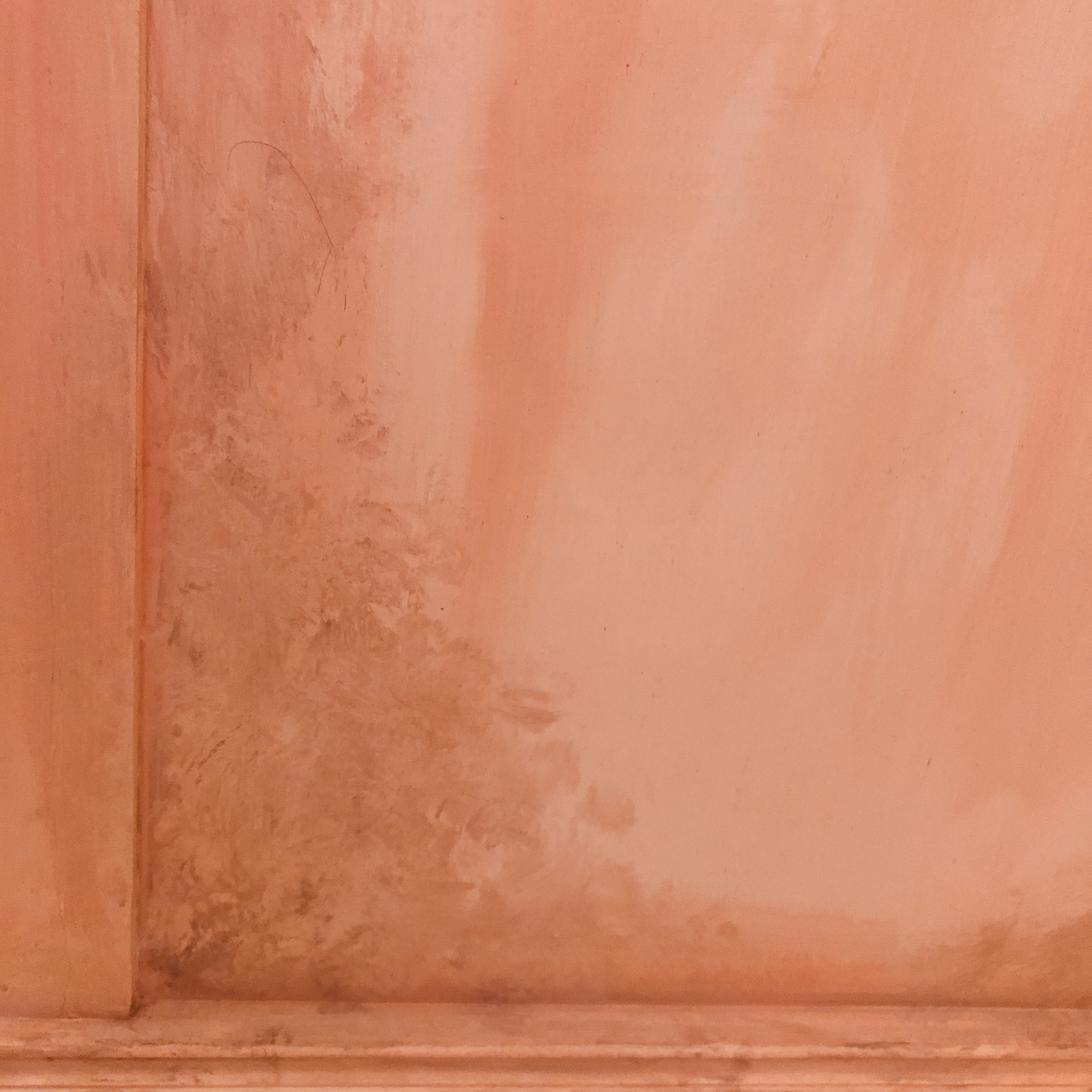 It was pretty tricky assembling the flower differently from the standard design. I think I took a half hour measuring and re-measuring when I tried to exactly duplicate the new-fangled flower on all four sides. I had to flip it and reassemble it again for the other sides so they both faced the same way. Where there's a will there's a way!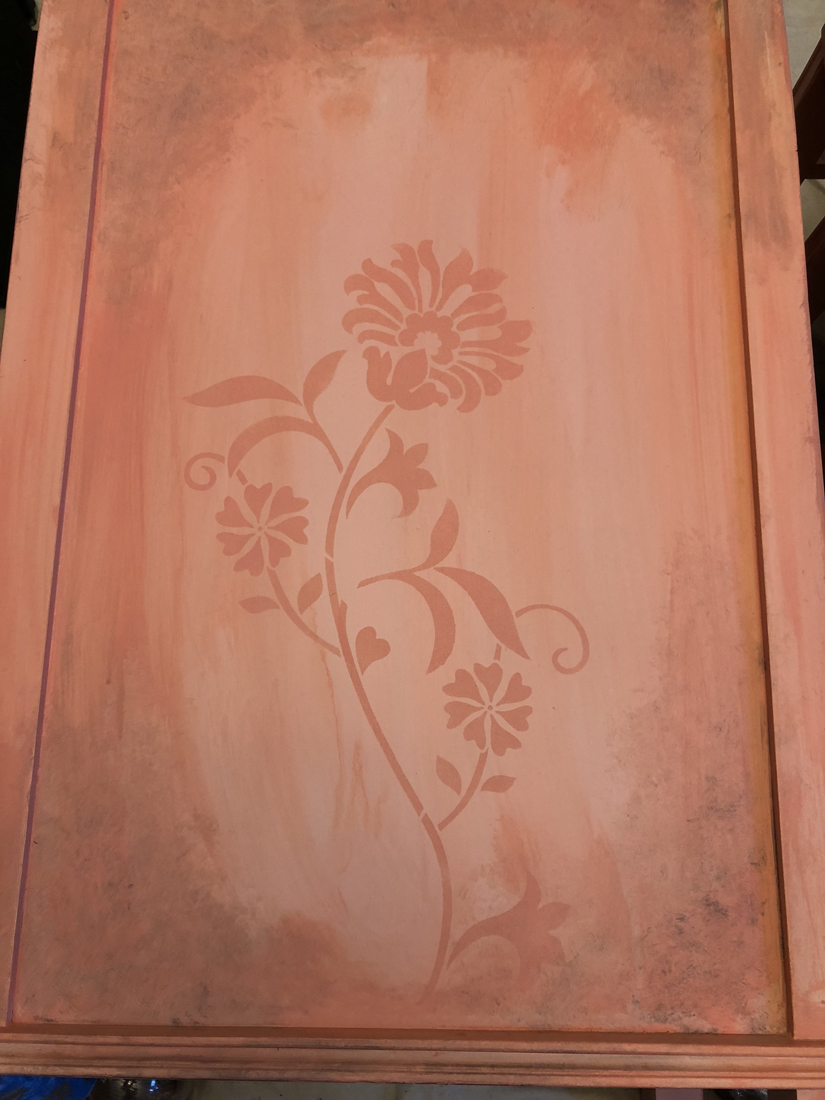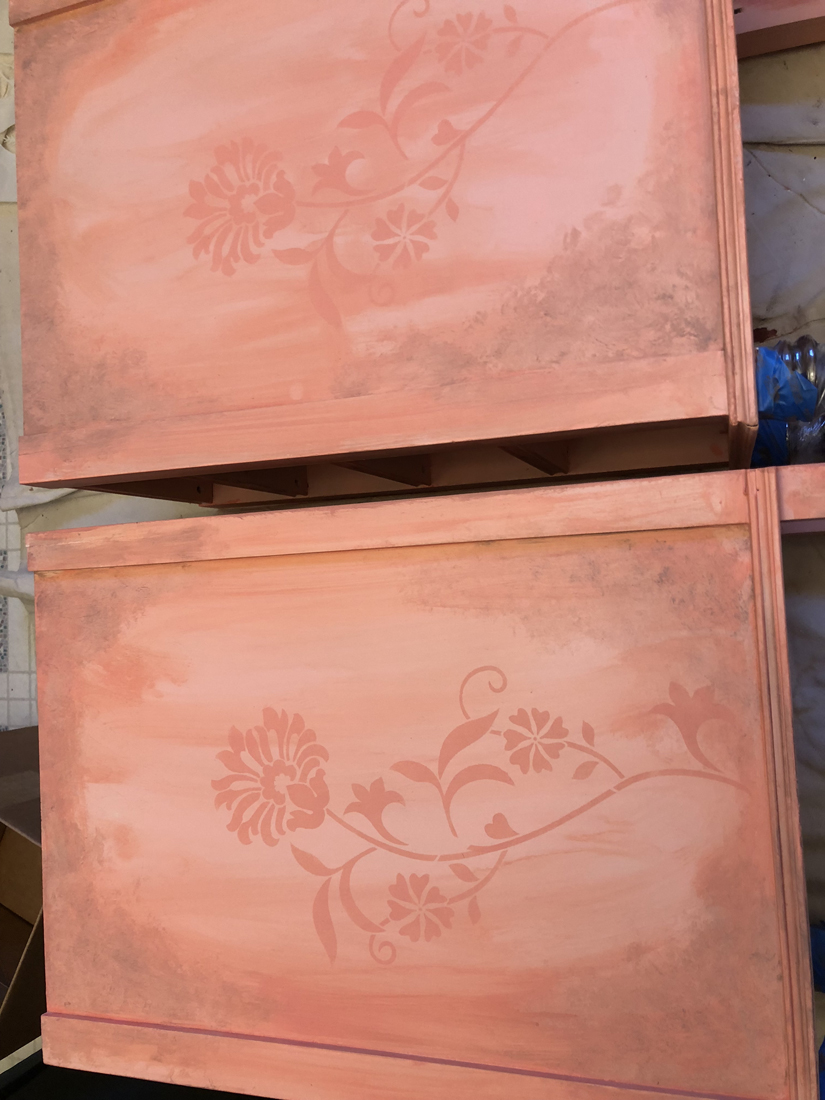 I'll post more later, after I finish up the project. But meanwhile, show me your blending techniques. There are many, but the best is the one YOU do.
Val
UPDATE: The finished project - they sold in 3 days for $275 to a return customer who waited many months to see their outcome. I used the colors she preferred but the took creative license not knowing if she'd actually buy them. I'm not one to be confined in a box, so I don't do custom orders very often. If she hadn't bought them, I would have kept them for myself. These were hard to let go!