Decoupage Art in Furniture ReDesign
I partnered with Peggy Meidinger, CEO of Sweet Serendipity, to bring you a step-by-step decoupage technique tutorial. Her pieces are pictured below in a slide show and collage. I call her "The Queen of Decoupage" because she has a rare talent for artistic vision.
Below hers you will find my tutorials using fabric on drawers. Once you get the hang of decoupage, the sky is the limit.

Decoupage
noun
the art or craft of decorating objects with paper
(or fabric, posters, wallpaper, napkins, tissue paper, etc.)
To size your paper/poster to your furniture: measure twice cut once. Use a straight edge and cut from middle out so that you don't tear the edges. If doing drawers, be sure that if there is space between them to also ModPodge between for consistency of your image. It is common practice to sand off the edges of the paper once adhered for a clean edge.
Two Methods
Method #1 - Step-by-Step
Be sure your surface is clean, free of oils, and properly prepped.
You can prep your paper ahead of time by spraying the front and back of image with matte spray sealer to strengthen your paper - do 2 or 3 coats, just enough to seal it.
Apply one layer of ModPodge to the furniture's surface and let dry.
Apply a second coat and let dry.
Lay image face up on the dry ModPodge and lay parchment paper over it.
With a dry hot iron, iron over the parchment paper starting from the center ironing out to the edge. While image is still hot rub with pressure to assure adhesion using a lint free cloth.
Seal with 2-3 coats of spray lacquer (If you use ModPodge or any other water based sealer or you will most likely get wrinkles and bubbles).
Method #2 - Step-by-Step
Be sure your surface is clean, free of oils, and properly prepped
Cut the paper to fit.
Using ModPodge, you will adhere it to the top with just a nice, even coat - not too thick.
First apply the ModPodge to the surface of the piece and then lay the paper over it. You may be able to move it around a bit, but try to get it lined up as evenly as possible on the first try perchance it doesn't move once it's down.
Use something flat like a credit card or spatula and smooth out the bubbles.
If cut the paper a little large, you can use sandpaper to take the excess off along the edges.
Spray with an oil based topcoat first and then with any other type top coat after that is completely dry. (72 hours is best)
TIPS: Matte paper works better than glossy paper. Try distressing the paper a bit on the edges and other places for a more worn look.
About Peggy:
"I'm a wife, mom, grandma, and Montana Native. I've been redesigning furniture for just over 5 years. I started by painting an old dresser and selling it on FB and never looked back! I can't imagine NOT DOING THIS... it's my therapy.
I started decoupaging my pieces as a way to stand out from the crowd of other furniture flippers in my area. I'm addicted to paper, so it works out well for me. 🙂 My customers and FB/IG followers have been so supportive of my work, encouraging me to push y limits of creativity and move beyond the norm of painted furniture. I love the painting process as well and strive to combine the paper and paint into a cohesive unit."
Online Decoupage Supplies
ModPodge and Fabric
For additional tips on using fabric and ModPodge, I have two tutorials for you:
We found it alongside the road. It looked like a kid's painting project gone bad but...it was sturdy and in decent shape.
Picture a high school student sitting at this desk working through her (had to be a "her" with all the pink and purple paint) geometry homework.
It is obvious she tried to create a stylish, fun desk to use but...
She missed the mark - just a bit.
As you can see, she painted over the hardware too.
It was time to do a desk makeover - to symbolize the future business executive the past owner geometry student would become.
Step 1 - Sand the entire piece and fill in any nicks with wood filler.
Step 2 - Prime. Lightly sand after it is dry using a 3M Sanding Sponge, Fine Grit to remove any bumps and bugs. Prime again if needed.
Step 3 - Spray paint the entire piece with your base color if you want to distress the piece and have a particular color in mind that you want to show through. This is quick and easy. I used Rust-Oleum Painter's Touch Spray Paint, Ivory Bisque. Lightly sand after each coat to keep the surface smooth if needed.
Step 4 - Paint your accent colors. Tape off if necessary. This one is General Finishes Milk Paint, Coastal Blue. Lightly sand in between coats.
Step 5 - If you plan to distress, use a sanding sponge to the desired distress-isity.
Step 6 - ModPodge the drawers with your fave fabric. I used chevron duck cloth from Hobby Lobby.
Paint the outside of the drawer with ModPodge using a foam brush.
Lay the fabric on the drawer and smooth the fabric until there are no creases.
Cut the fabric about an inch and a half around the drawer to give enough room to wrap around to the back of the drawer.
Paint more ModPodge on the sides and underside where the fabric will wrap around and be secured out of sight. (Basically, you are just gluing the fabric onto the drawer using the ModPodge). Make sure your patterns line up!
After it is secured, paint the Mod Podge right onto the fabric to give it a nice finish. This will protect the fabric from fingerprints and add to the texture.
Use scissors to poke holes in the Mod Podged fabric through the holes that were already there and add hardware.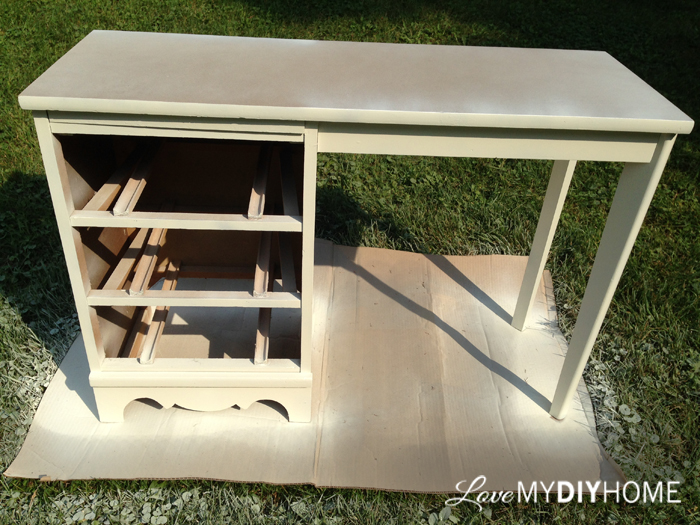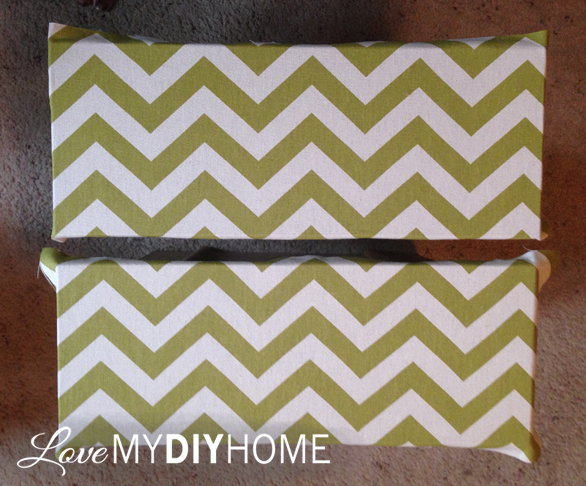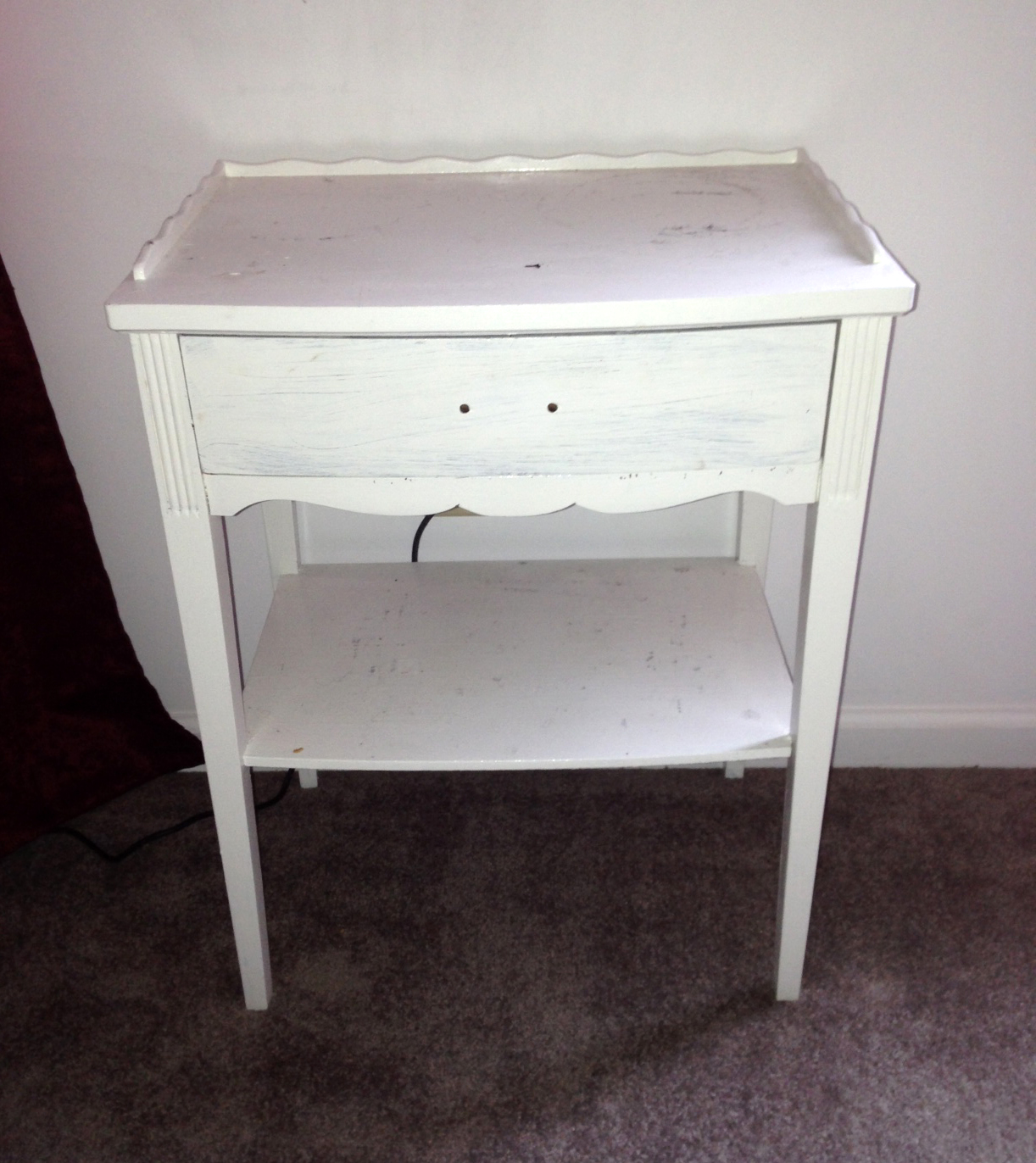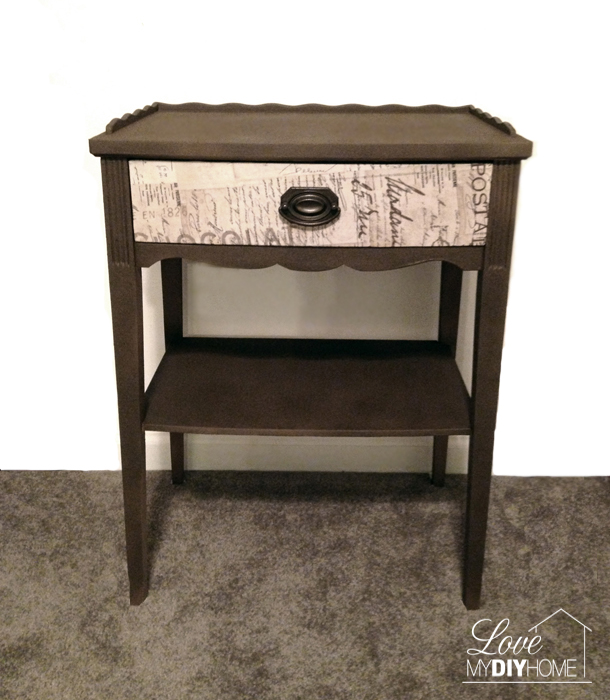 "I am admittedly, completely addicted to paper! Aged botanicals, shiny silver filigree, French script… I love them all!"

- Peggy Meidinger